An FDA committee is meeting next week to review the first COVID vaccine. We must demand that full transparency is given to the American public. Action Alert!
Pfizer has applied for emergency use authorization (EUA) for its COVID-19 vaccine, and an FDA advisory committee will meet in an open session on December 10 to review Pfizer's data; Moderna recently announced that it, too, has filed for an EUA. We're being told by the manufacturers that both of these vaccines have above 90% efficacy and serious adverse events are low. That's all well and good, but we cannot rely on the word of vaccine makers that their products are safe. We need the data, and so far, we are not even close to getting it. This is completely unacceptable.
The chart below shows that BioNTech/Pfizer and Moderna have fallen pitifully short of demonstrating the full transparency that we and ANH-International have been calling for. Out of ten areas, full transparency has been provided in zero categories. In 6 of 10 categories, none or very little of the data is in the public domain.
Table. Current status of transparency on BioNTech/Pfizer and Moderna mrna vaccines
(19th November 2020)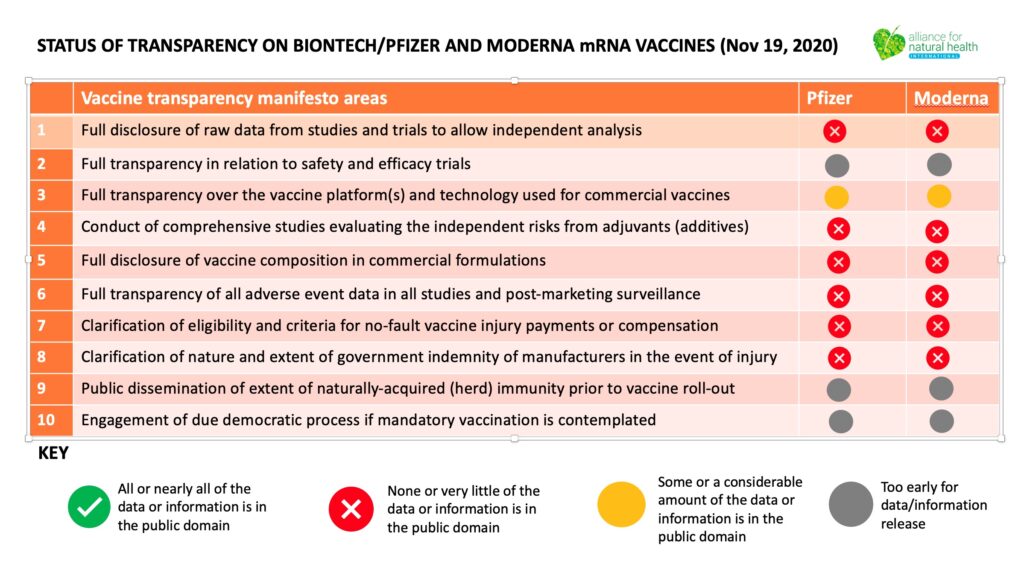 Courtesy of ANH-International
We should not even think about receiving a COVID vaccine, nor should the FDA grant an EUA to a COVID vaccine, until these companies show us their cards and let all of their data be independently analyzed. Only then can we know the true risk/benefit of these vaccines and be able to make informed choices, for ourselves and our families.
Action Alert! Write to Congress and the Vaccines and Related Biological Products Advisory Committee and tell them we need full transparency on any COVID vaccine approval. Please send your message immediately. By sending this message, you will also be supporting our petition to ungag doctors so that they can share with patients the benefits of supplements and natural treatments for COVID.